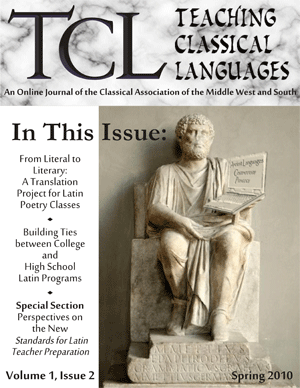 Spring 2010
Volume I, Issue 2
Welcome to Teaching Classical Languages (TCL). TCL is the peer-reviewed, online journal dedicated to exploring how we teach (and how we learn) Greek and Latin. TCL is sponsored by the Classical Association of the Middle West and South (CAMWS).
Abstract
This project gets to the heart of poetic interpretation and the creative process by giving students the first-hand experience of writing an original, literary translation of a Latin poem. The project has five components: First the instructor lays the groundwork by introducing to the class the principles of translation and English versification. Second, students select a poem and write a close, literal translation of it. Third, students meet individually with the instructor to discuss the poetics and literary interpretation of the selection and how those will affect the final translation, and then create an original literary translation. Fourth, after completing their polished, literary translation, students write a short essay explaining their own process. Finally, the culmination of the project is a class recitatio, during which each student gives a brief introduction that summarizes the explanatory essay and then performs the original translation.
Detailed steps for the project are offered as well as a primer on the art of translation, examples of student work, a grading rubric, suggestions for adapting the project to individual classroom needs, and an annotated bibliography.
Keywords
Latin, poetry, translation, interpretation, pedagogy, class projects, Catullus
Abstract
A description of ideas and strategies that have worked among a group of educators in Illinois to
foster communication between college and high school Latin programs. Represented are two large
universities with active teacher training programs and two secondary schools with well-established
Latin programs. Personal connections have been crucial to forming these relationships; regular contact
and institutional support have been necessary to maintain them. The models described here can
be replicated by other programs.
Keywords
College-school cooperation, Latin teaching, secondary and college level; Latin teacher recruitment
and training
Abstract
After nearly two years of work, the new national Standards for Latin Teacher Preparation were approved by the Board of Directors of the American Philological Association and the Executive Committee of the American Classical League and were unveiled March 1, 2010.
The ACL/APA Task Force for Latin Teacher Training and Certification, a committee of both Latin teachers and college faculty involved in teacher training, developed the new Standards so that they would be aligned with the Standards for Classical Language Learning and with ACTFL Program Standards for the Preparation of Foreign Language Teachers and the INTASC Model Standards for Licensing Beginning Foreign Latin Teachers. The Task Force also revised the document in light of comments from dozens of Latin teachers and teacher trainers during a five month comment period last spring and summer.
The new Standards will undoubtedly promote further discussion about what makes a good Latin teacher. A plenary session to discuss Standards took place at the ACL Summer Institute in June, and there will be a panel discussion at the APA next January in San Antonio (Sunday, January 9, 8:30 a.m. - 11:00 a.m.). In addition, in this issue of Teaching Classical Languages, the editor has invited seven teachers and university professors from different backgrounds and with different teaching experience to offer their perspectives on the Standards. Those offering perspectives include two members of the Task Force (Ronnie Ancona and Lee Pearcy), a past President of the ACL (Ken Kitchell), a former World Languages District Supervisor (Cathy Daugherty), new Latin teachers (Cory Holec and Erik Collins), and a veteran Latin teacher (Bob Patrick).
The Standards for Latin Teacher Preparation may be found
online
.
You are invited to participate in the discussion by posting your responses to the perspectives via the commentary boxes found at the bottom of each of the following essays.
Keywords
Latin teaching, Latin teacher training, standards, American Philological Association, American Classical League
Cover photo illustration by Meghan Yamanishi.
Statuette of
grammaticus
Marcus Mettius Epaphroditus of Chaeronea; Palazzo Altieri, Rome.
Original photo by Jona Lendering, from
Livius.org
, used with permission.
Back Issues

TCL is the successor to CPL Online. To see the CPL Online archives, click here.
About TCL
Learn more about Teaching Classical Languages (ISSN 2160-2220)
About CAMWS
Become a member
Benefit from a membership to CAMWS. Learn more...
Committee for the Promotion of Latin
CPL is the arm of CAMWS dedicated to preserving and promoting Latin in schools. More on CPL...